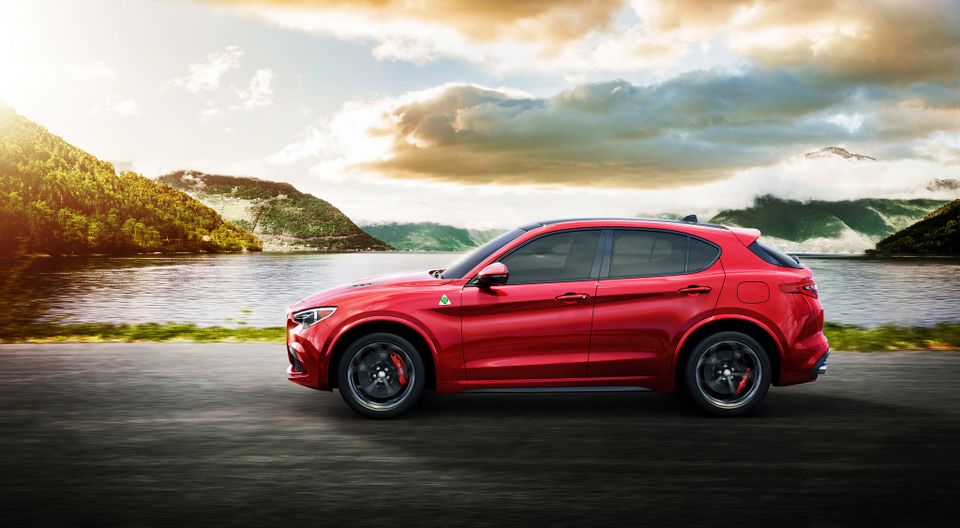 For a start, it's hard to believe that an Italian carmaker has entered the SUV market as they're particularly known for delivering high-performance over practicality in their cars, wrapped in show-off styling that is synonymous with the feisty European country. Anyhow, despite the belief that Italian brand Alfa Romeo could possibly bring anything new to the SUV class, the 2018 Stelvio has successfully blown the critics away.
Here are the things you need to know about the 2018 Alfa Romeo Stelvio Quadrifoglio that set it apart from any SUV on the road:
Torque-Vectoring All-Wheel Drive
In terms of performance, the 2018 Stelvio Quadrifoglio leads the SUV class with a 505 horsepower 2.9-liter twin turbo V-6 engine on torque-vectoring all-wheel drive that gets from zero to 60mph in an astonishing 3.9 seconds. What other SUV can give you that speed and still be practical enough to be a family vehicle?
Sports Car Interior Inside an SUV
The seats are to die for in the Quadrifoglio model of Alfa Romeo's Stelvio and are in a racing style in the front made from sumptuous leather, with equally comfortable luxury in the rear. The combination of luxurious interior and high-tech central console that is packed with driver-assist features belies the fact that the Stelvio Quadrifoglio is a family vehicle at all!
Experience Racecar-Like Performance
The column-mounted paddle shifters give you a racecar experience behind the wheel, and, being large and made of metal, you can be always sure of exactly where they're located. The use of shiny chrome for interior finishes such as the paddle shifters is a signature move of the Alfa Romeo brand and brings extra sophistication to the interior of the Stelvio.
Unique, Sporty Exterior
From the front, the imposing triangular grille bearing the Alfa Romeo insignia shows that this is an SUV that means business. The back of the Alfa Romeo Stelvio slopes down to a fastback and poking from beneath the rear skirt are two huge chrome exhaust finishers, which really tie together the SUV's unique design elements.
Test Drive the SUV with Racecar Performance at Alfa Romeo of Los Angeles!
If you're a thrill seeker when it comes to driving but have to meet the practical needs of your family, the 2018 Alfa Romeo StelvioQuadrifoglio is perfect for you. We have a large inventory of new Alfa Romeo modelsfor sale near San Bernardino, CA which includes the new Stelvio Quadrifoglio, and you're welcome to join us for a test drive. To find out more about this class-leading SUV and other Stelvio models, come and see us at our Alfa Romeo dealership near Ontario, CA.