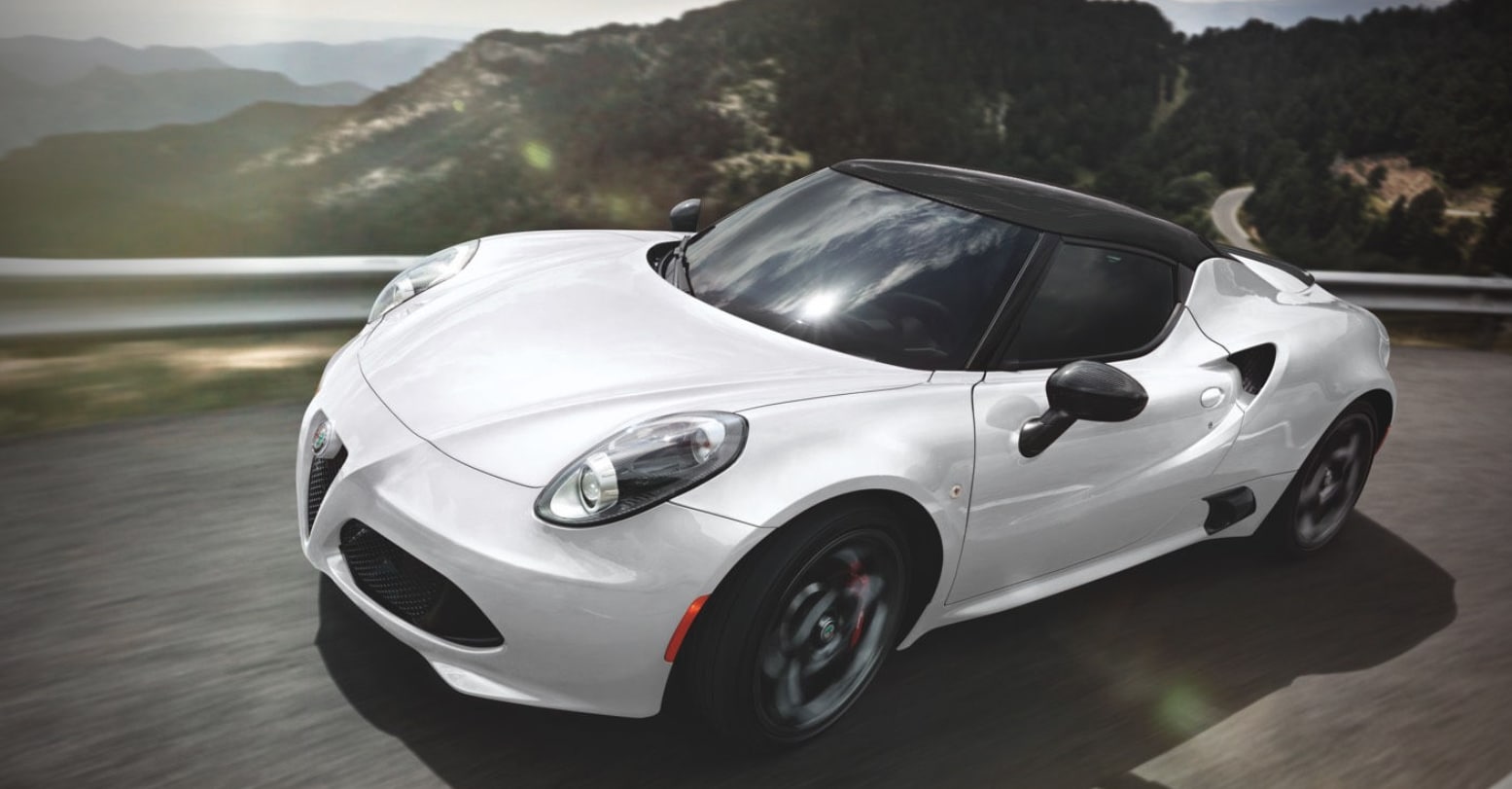 The 2018 Alfa Romeo lineup is truly something to behold. From the award-winning SUV, the Stelvio, and striking sedan, the Giulia, to the brand's 2018 version of its outstanding sports car, the 4C, 2018 is the year of Alfa! The 2018 4C is an exceptionally good-looking sports coupe that comes with an awesome Spider variant that delivers super high-performance and superior styling that is synonymous with the Alfa Romeo name. Read on to see what the hype is all about.
Impressive Styling and Racecar Performance with Thoroughbred Breeding
There are a few changes to the Alfa Romeo 4C and the Spider version for 2018 that build on its hugely popular appeal among driving enthusiasts across America.
Here we take a sneak peek:
A stylish optional front fascia complete with fierce-looking carbon fiber vents has been added that complements the 4C's lines, emphasizing that this is a car built for speed. An interior with black Italian leather seats with funky yellow stitching is offered on 4C models with black, white or Basalt grey paint. Previously the yellow stitching was only available on the yellow paint model of the 4C and the color combination has been extended to other paint finishes due to popular demand from buyers.
The 4C Spider delivers on all levels for fans of Alfa Romeo's classic formula of style and high-performance. The basic formula of raw, balanced and light styling with the promise of heart-stopping speed remains the same. However, the 2018 Spider sees a chassis constructed in carbon-fiber monocoque and aluminum to be extra-lightweight, weighing in at just 2,504 pounds. There's rear-wheel-drive with a mid-engine for superb handling, with a 237-horsepower turbocharged four-cylinder engine delivering 0-60 mph in only 4.2 seconds to hit the quarter-mile mark in just over 12 seconds at a staggering 107 mph.
Feel the Power of the 2018 Alfa Romeo 4C and 4C Spider with a Test Drive at FIAT of Los Angeles at Motor Village LA!
The 2018 Alfa Romeo 4C Couple has received a very warm welcome from automotive industry insiders and driving enthusiasts alike. You simply have to drive this incredible sports coupe to truly appreciate its design and also the technology that has made it a class-winner. We have all the whole range of Alfa Romeo 4C specs for you to choose from at our dealership and welcome you to come and experience its driving style personally. Find out what the big deals is about the 2018 Alfa Romeo 4C and 4C Spider with a test drive at FIAT of Los Angeles at Motor Village LA today!